rtic
Moody Aubergine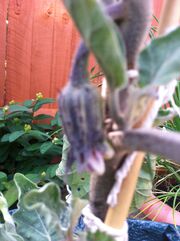 The misery of the patch. The moody aubergine. It was bad enough that it got attacked with green aphids. But no, this is thing is taking it's time. One single flower bloomed, for all of thirty seconds. A nice purple colour it was, before it withered away.
I think Kevin the Aubergine is just being oppositional and defiant. Will turn up in his own good time.
Triffid like Butternut Squash sits alongside Ghost rider pumpkin.

[

]
Gladys the butternut is certainly very leafy, There were at one point lots of male flowers, These were edged out by female flowers. Currently there are three female flowers, and whilst there are boy flowers, both tend to open when they feel like it. The buds behind the girl flowers are large, and the flowers open. However, there are hardly any bees around and the boy flowers are remaining closed. Stroppy things. One fruit did go a lovely bright yellow, however, it became a three course dinner for slugs and snails. Thus unviable. Bruno the Ghost rider pumpkin, has leaves as big as dinner plates and requires almost daily watering. There appears to be one bud, so watch this space.
Yours in Anticipation
Horticultural Hobbit
All items (10)